We would want our food to be flavorful. As I feed my nieces I notice they eat more if we give them the best condiment for a certain menu!So do we!
I love eating pizza at the weekend and topping it with tasty sauce makes me feel so good! It's football season once again and Super Bowl would be more interesting if we serve our favorite pizza with
TABASCO® Original Red
. It's so much more than hot! It spice up your ordinary food .Regardless of the kind of pizza you serve on your game day tradition it enhances the flavor of it and makes it more tasty! Haven't decided on what to prepare on that day? You better check
Game-Day Party Menu
for some simple ideas for you. Choose one and try it at home. The family might ask for it again and again!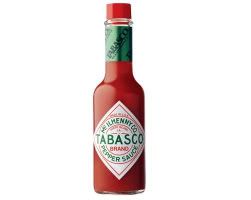 What makes me love this sauce is the fact that it brings the most out of your food, from bland to yummy! It's not just about putting hot flavor but making our food more delightful. I'll definitely love salad on a pizza with Tabasco Original Red. Feel free to visit
Pizza Perfected
for money-saving ideas on making at home toppings.
Original Red was the first sauce introduced by the Mcllennhy family back in 1896 and continues to be their most popular sauce out of 6 total sauces simple because it makes us love our food than the usual way without it. I've tried it on scrambled egg and had two cups of rice!