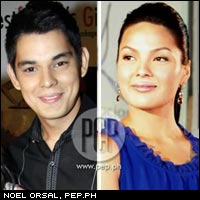 KC's first movie is now in the process. The script is already done and the camera starts to roll to take their sets. KC together with Richard Gutierrez are doing their 1st movie sequence.We still don't know the movie title and the remaining casts of the upcoming movie. When these two sweet celebrities were interviewed they said that they're enjoying every moment of the tapings. This is their first team up that they work together.
Some scene of the movie will be shot in Greece. KC and Richard are both excited to visit the country. They haven't been there so they're pretty happy knowing about it. On the 14th of July their group and the crew will fly to Greece for their tapings.
This is a dream project because KC is working with ABSCBN ( Kapamilya) while Richard is with GMA 7 and GMA Films ( Kapuso). I'm happy to see them together. I wanna see if they'll be loved and supported by "masang pinoy". I like Richard very much as well as KC.